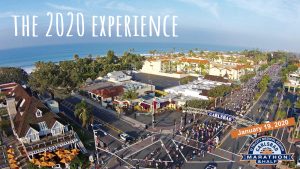 At a glance:  Carlsbad Weekend Schedule
Friday, January 17
12 to 5 PM – Health & Lifestyle Expo
Saturday, January 18
8 AM – Kids Marathon Mile at LEGOLAND® (get an insider's look a this fun event here!)
10 AM to 5 PM – Health & Lifestyle Expo
Sunday, January 19 – RACE DAY!
6:15 AM – Full Marathon Start
6:45 AM – Surf Sun Run 5K Start
7:45 AM – Half Marathon Start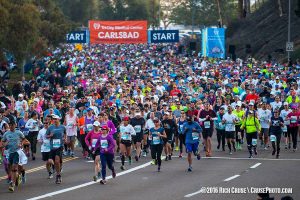 The year 2020 is upon us, and with every new year comes one of THE BEST winter races out there – the Tri-City Medical Center Carlsbad Marathon & Half!  Coastal course, sparkling ocean views, enthusiastic community support, continuous live music, ideal running weather, quality swag, delicious runner perks – need we say more?!
But Carlsbad is more than just a pretty face, this event comes from a place of deep roots and is a genuine labor of family love.  Going on its 29th year, many agree that there is something different about Carlsbad, something pure.  It's not just another mass produced event, thrown together with the standard formula of giveaways made up of average quality.  It is handcrafted each year with new designs, logistical changes that cater to previous issues/requests and fresh ideas that trend with current interests.
Here are what a few 2019 finishers had to say last year:
"Awesome views! I loved running along the coast!" – Kathryn A.
"Great course, great support, great people, an excellent organization." – Edgar N.
"Best day! Today marks my 10 Anniversary since my first Carlsbad 1/2 Marathon! I had such a blast! The course is organized, tons of support to keep you pushing and lots of water stations. Loved all the positive energy of the participants and volunteers! The beer garden is a real treat at the end! I also love the technical and 1/4 zip jacket, which are always super cute!" – Jennifer A.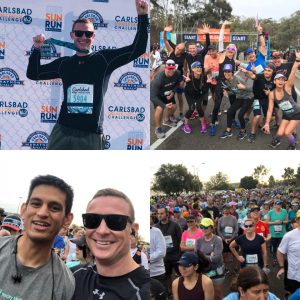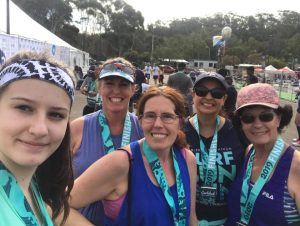 The 2020 goods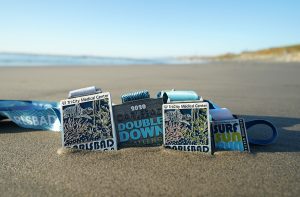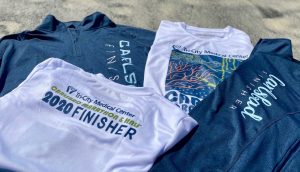 Inspiration for this year's design concept was drawn from the 1869 highly acclaimed adventure novel, "Twenty Thousand Leagues Under the Sea", paying homage to the year 2020 with a playful font representative of "the future" and technology.
The majestic sea turtle on the front of the race shirt represents just one of the ocean creatures that will be swimming (and cheering!) alongside runners during the race.  Dolphins are also common visitors along the Carlsbad coastline, and can often be found playing in the waves, sending their onlookers luck and well wishes.  Gray Whales can also be spotted on race day, as their migration period is from mid-December through April.  These south-bound wonders can be seen by watching the surface of the water for their spouts.
(View full swag gallery at bottom of the page.)
THE 2020 RUNNER PERKS
Intangible energy boosts
One of the prominent aspects of Carlsbad that makes this race so special and unique is the heartfelt community support that it receives.  The energy you feel as you run into the village at mile-3 is a major boost both mentally and physically. The cheering, loud applause, words/signs of encouragement and overall vibe will send you out into mile-4 without even realizing you just checked off another mile!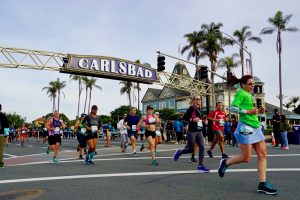 Visual inspiration
Then comes the grand moment when you exit the village and the gorgeous ocean backdrop is revealed.  A refreshing breath of air and motivation will take over your body – and the view is yours to enjoy for the next 6 miles (full marathoners get to enjoy 12 miles of ocean view, as they loop around twice!).
Rocking encouragement
Along with constant spectator support and having the ocean as your sidekick, there are also talented and fun entertainers and bands at every mile of the course, keeping the energy high from beginning to end!  Check out the 2020 course lineup here!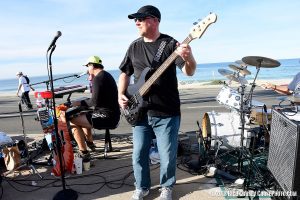 Fuel
Fully staffed and equipped support stations are located at approximately every mile on the full marathon, half marathon and 5K courses. Water and portable toilets will be available at every support station.
In addition, Nuun "Citrus Mango Endurance" electrolyte replacement will be available approximately every other mile starting at (approximately) mile 2 for full and half marathoners.  Science in Sport energy gel will also be available at (approximately) miles 5, 9, 12.5, 17.5 and 22 for full marathoners and at (approximately) mile 4.5 and 8.5 for half marathoners.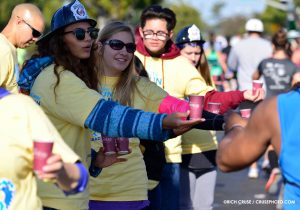 The best moment…
Just seeing the finish line for the first time is an emotional moment you'll never forget. You stop thinking and your body takes over, keeping your legs moving and putting an uncontrollable smile on your face. Then when you cross the finish line, you're overcome with an overwhelming sensation of accomplishment, relief and pride.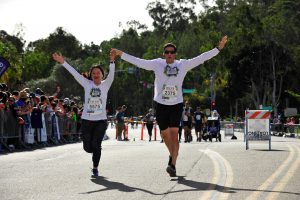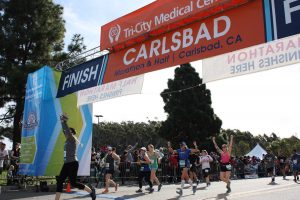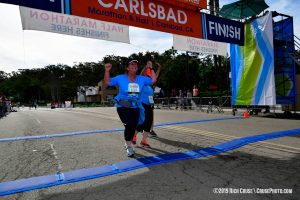 Cheering volunteers will hand you a 2020 Finisher medal for you to proudly display around your neck.  You'll have the option of grabbing a mylar blanket if temperatures are still cool, followed by QURE Alkaline Water, TruMoo chocolate milk and Nom Nom food bag filled with tasty refueling treats including a Kashi bar, Jimbo's banana, Partners Crackers and more.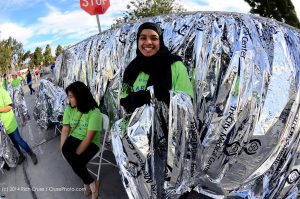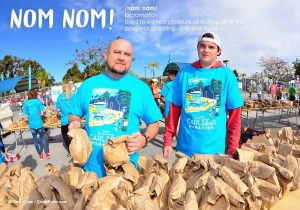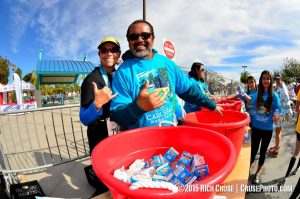 Time to party!
The finish line festival is an electric atmosphere full of celebration, high-fives and jubilation as everyone relishes their morning of glory and marvelous accomplishment.  The melodic tunes of Martin Storrow will fill the air, adding to the ubiquitous bliss and contentment felt throughout the festival.
All 21+ finishers can enjoy a complimentary beverage in the beer garden, where they'll have the option of a delicious Boochcraft hard kombucha or refreshing Ballast Point beer (yummmmmmm!).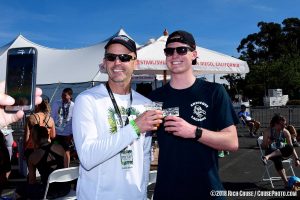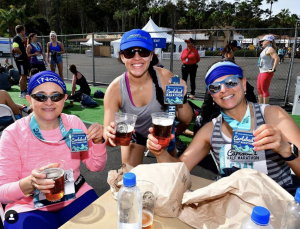 Shop, browse and visit with local vendors and companies including the Official Merchandise booth where you can find a new line of quality and stylish souvenirs to wear proudly for years to come!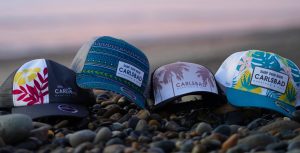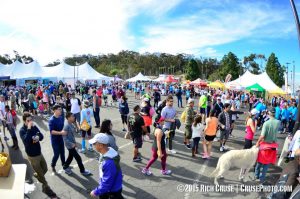 Last but not least, since our event is a race after all, there will be age group awards offered to the first three finishers, male and female, for each race in the following age groups: 17 & under, 18-24, 25-29, 30-34, 35-39, 40-44, 45-49, 50-54, 55-59, 60-64, 65-69, 70-74, 75-79 and 80+.
Still looking for a 2020 resolution?
How about 3 races in one year?! Carlsbad kicks off the 2020 Half Marathon Triple Crown and the SoCal 3×5 series.  You'll be able to snap a Triple Crown bound pic at the photo booth or grab a souvenir from the merchandise booth as you commit to the journey!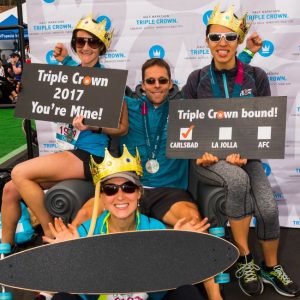 And that is Carlsbad.  It takes experiencing it to truly understand why this event is so special – you're likely to fall in love! And the truth is, we tend to fall in love with each of you as well.
See you Sunday, January 19, 2020!
(Registration will also be available at the Health & Lifestyle Expo on Friday, 1/17 and Saturday, 1/18)
2020 swag lineup (click to enlarge)!