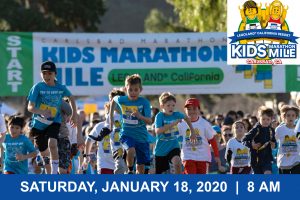 Details a glance
WHEN:  Saturday, January 18, 2020, race start time is 8 AM

WHERE:  LEGOLAND® California
WHAT:  Participants can run, walk, skip, be pushed or carried on a 1-Mile course through LEGOLAND® California, followed by a celebration in the festival area, complete with music, dancing and family fun! Then spend a day exploring and playing in the amusement park – race entries include free and discounted park tickets!
COST:  $30-$35 (online registration closes at the end of the day on 1/15/20. Race day registration will be available beginning at 7 AM)
RACE ENTRIES INCLUDE: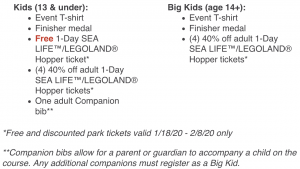 Details worth the read
As a parent, watching joy overcome your child is a heartwarming happiness like nothing else can provide. Giving them an experience that will bring excitement, fun and indulge their adventurous spirit is one of the best parts of parenthood and it's where precious memories (and thousands of photos on your phone!) are created.
Whether it's as simple as bringing them to the beach for the first time, blowing bubbles or just watching trains go by – we live for these moments!  The thrill, the glee and most of all, the smiles.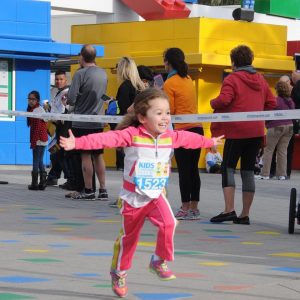 The Kids Marathon Mile at LEGOLAND® is a unique event that encompasses both happiness and health and offers families a unique day of adventure they can experience together.  It takes place every January, as part of the Tri-City Medical Center Carlsbad Marathon race weekend.
The lowdown
The perks start when you park in the LEGOLAND® parking lot for FREE (a $25 savings!) – already winning from the start.  When you enter the event space, you immediately walk into a party. Family-friendly music is blaring, kids are dancing and hoola-hooping, giveaways are happening at the booths – and then you spot the coffee cart.  Win #2!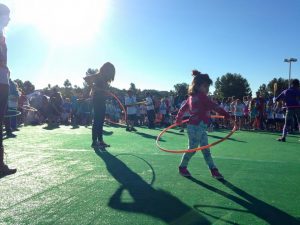 The local Carlsbad PD Swat and Fire Departments will bring their vehicles out for kids to admire. The kids are always a little star struck because let's admit it, no matter what your age, it's always a thrill to meet our local heroes!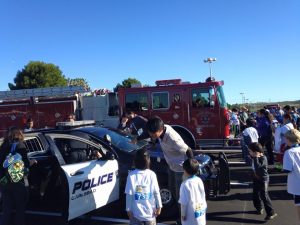 Race time!
As 7:45 a.m. approaches, you'll be encouraged to make your way over to the staging area, where kids are organized by age group and have the option to run, walk or stroll through their race with one parent/guardian (additional companions must register as a "Big Kid").
Kids get to experience the exhilaration of the start line, where they'll hear "on your mark, get set, GO!" and take off towards LEGOLAND® through a cheering crowd, surrounded by parents and peers.  The childish innocence and beaming smiles that come through the start line is a sight not to be missed!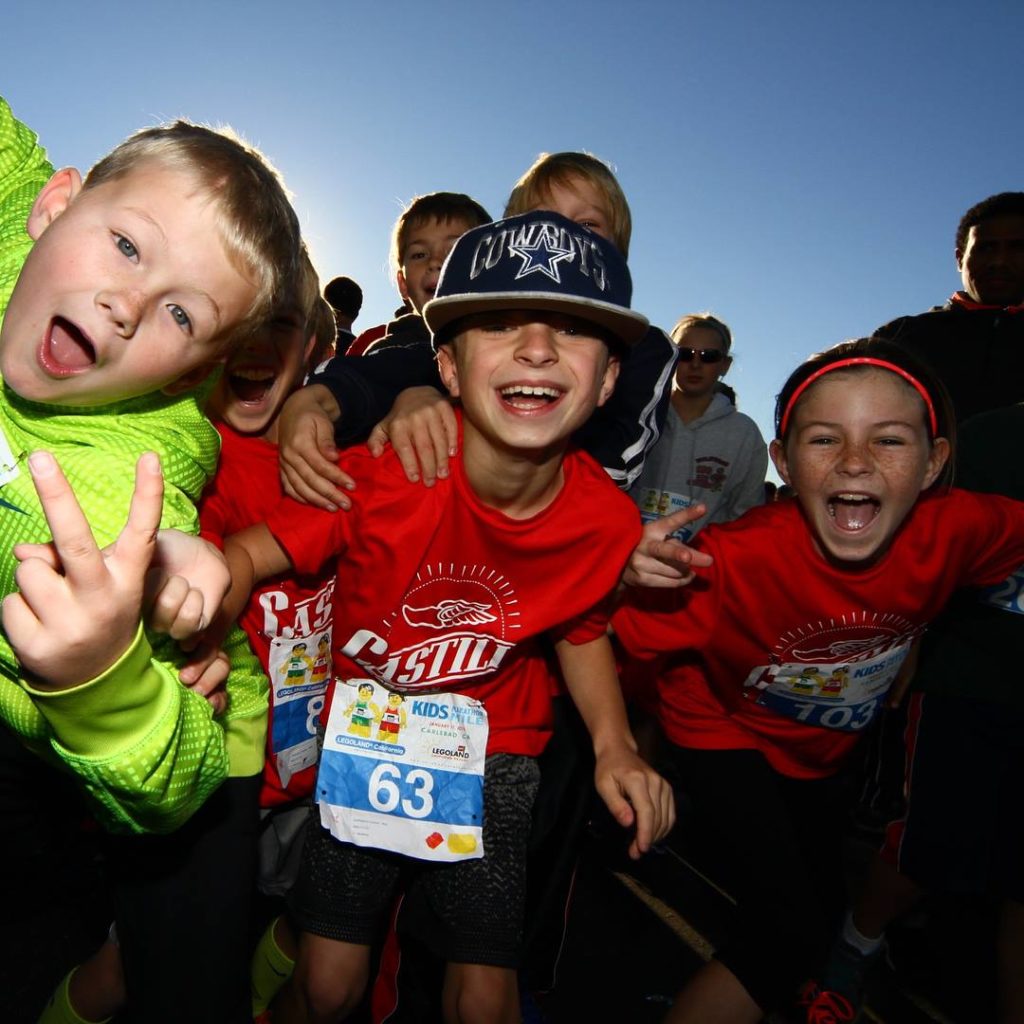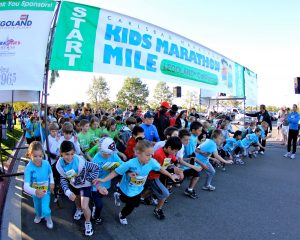 The 1-mile race course follows a fun loop that goes into the park and passes by fun LEGO attractions, before exiting and heading back out into the finish.  Here's a glimpse of what you'll see…
As your child nears the finish line, they'll be greeted by cheering spectators and exciting announcements of "Congratulations!" and "You did it!" from the announcer.  They will proudly run through the finish line where friendly volunteers will drape a shiny Finisher's medal around their neck. Once again – that smile will be radiant.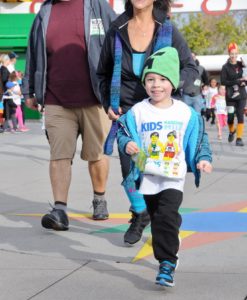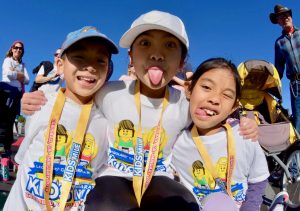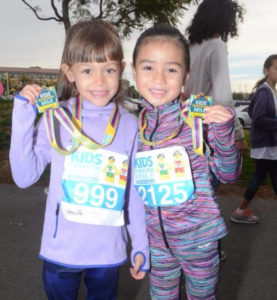 If you're running the Tri-City Medical Center Carlsbad Marathon, Half or 5K the following day, your child will have a new connection with "racing" and when they witness YOU crossing the finish line, it will be that much more meaningful – to both of you!
After the race, the fun activities, giveaways, music and dancing will be back in full swing where your little one(s) can explore and celebrate their accomplishment!
You also can visit with and sample yummy vendors including Farm Fresh to You, Jimbo's, Nekter Juice Bar, Chik-fil-A, GoGo SqueeZ and Welch's Fruit Snacks.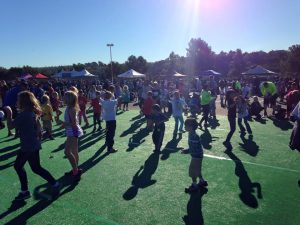 Bring on the LEGO's!
When you've had your fill of fun, get ready to take on some more excitement – it's LEGOLAND® time!  
Along with an event T-shirt and race medal, children ages 13 and under also receive a FREE 1-Day SEA LIFE™ Hopper ticket to LEGOLAND® California and SEA LIFE™ Aquarium (A $115 value valid 1/18/20 – 2/8/20) with their entry, plus a coupon for 40% off up to four (4) adult 1-Day SEA LIFE™ Hopper tickets.  And did we mention the race entry is only $30-$35??! Seriously an amazing deal.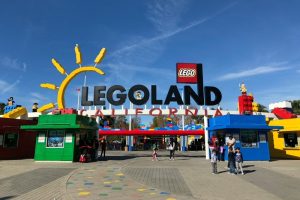 If you head to the park right after the race, there's no need to move your car, just walk on up to the entrance when it opens at 10 AM.  If you don't go that day, you will have until February 8 to use the free ticket and coupons, but there will be a parking fee ($25 per car).
Oh, and one more BONUS – the event takes place on Martin Luther King, Jr. holiday weekend! We all know how an exciting day can be followed by exhaustion, so enjoy an extra day off to recover (wait, is there ever such a thing as a "day off"?! 🤷‍♀️🤷‍♂️).
New in 2020!
Official Race Host Hotel
The LEGOLAND® California Resort Hotel is offering participants discounted room rates, exclusive early access to the park, free daily breakfast and more.
Learn more and book your stay here!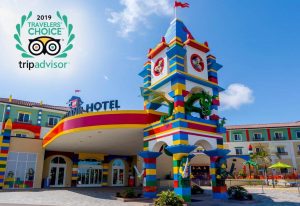 New race series just for kids!
Participants will not only earn the medals awarded at each event, but also a commemorative Kids Run Carlsbad series medal. You read that right –
three medals total
!
Learn more here
.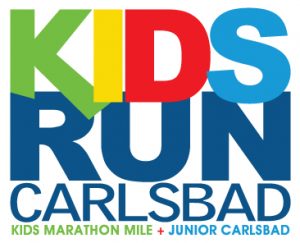 And there you have it folks!
This event truly is special and a one-of-a-kind experience to give your child.  It's an opportunity to make tons of memories and best of all, see your child giddy with smiles and excitement all day long. A major parent win 😉
Join us Saturday, January 18, 2020!