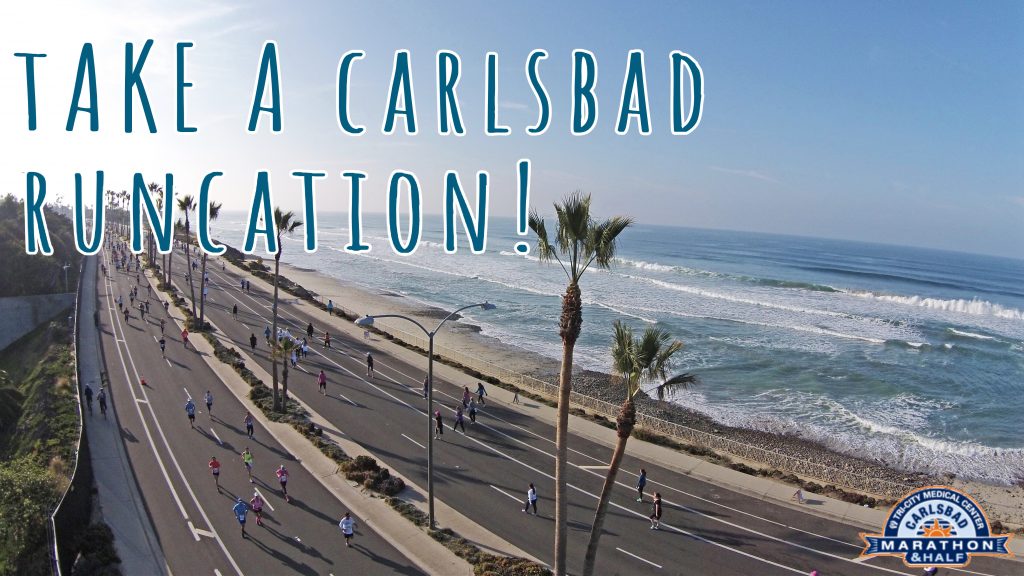 What's not to love about taking a "runcation"?  Travel, adventure, new experiences, the great outdoors, perhaps some culture to experience and beautiful new sights to collect – YES PLEASE!  We love this notion and we are in.
In case this term is new to you, a runcation is a trip you plan that revolves around doing a race. Running + vacation = RUNcation. Get it?! Think destination wedding, but destination running instead.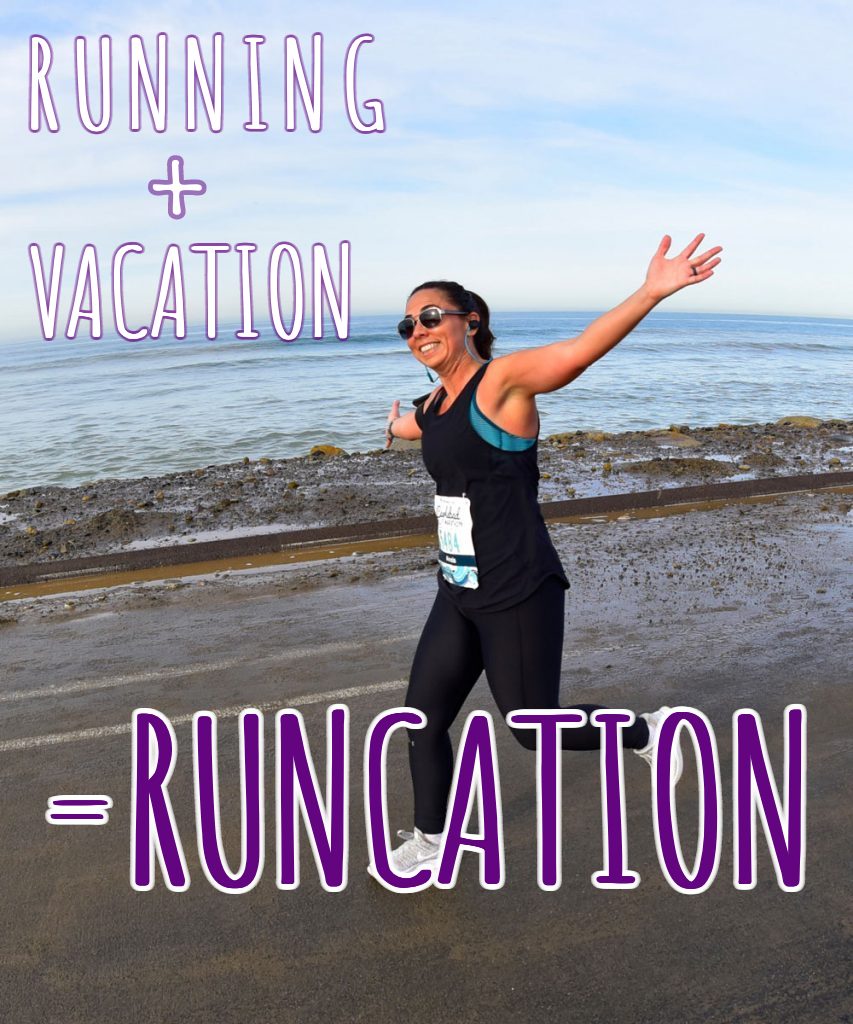 The idea is to pick a race in a destination you've never been to before or want to experience more of that will fulfill the type of vacation you're craving.  For example:
Craving nightlife and the party scene?  The Rock 'n' Roll Las Vegas Half Marathon might be the place for you.
Craving a beach getaway and ocean views? The Carlsbad Marathon & Half is a perfect choice.
Craving wine country? The Santa Barbara Wine Country Half Marathon is a delicious pick (along with these other vineyard races)
You get the idea!
Planning a runcation is a brilliant notion because it offers an opportunity to push your boundaries in all the best ways. Not only is it an excuse to take a trip to a new place, it's also a highly motivating excuse to train for a race like a half marathon, full, ultra, etc.
Some might find the term "runcation" to be a bit contradictive because when you think of "vacation", visions of relaxing poolside with a margarita in-hand likely come to mind.  An early alarm followed by exerting yourself and exhausting all your energy aren't often on the vacation to-do list.
So perhaps a more appropriate perspective is to take a RUNventure – a running adventure!
What does a Carlsbad runcation look like?
"Experience a vibe that is quintessentially California. Seven miles of coastline, nine incredible breweries, world-class resorts, shopping, golf, restaurants and more.  From world class resorts to quaint hotels, soak up the coastal splendor that is uniquely Carlsbad."
THE RACE
If there's one word to describe the Tri-City Medical Center Carlsbad Marathon & Half it would be QUALITY, in which both your experience and race swag are nothing short of.
The race takes place every January on Martin Luther King Jr. holiday weekend (another runcation bonus – you already have a 3-day weekend!).
Running in Carlsbad looks like this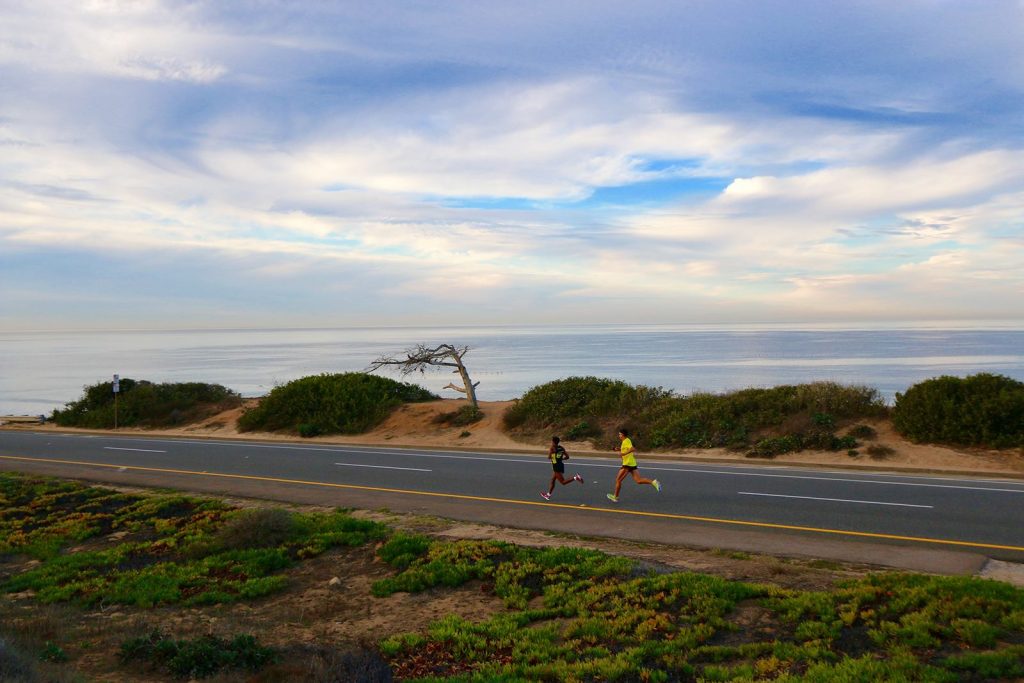 with a lot of this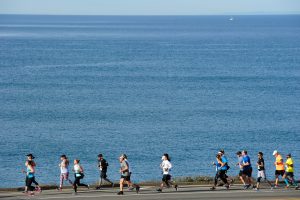 and a splash of this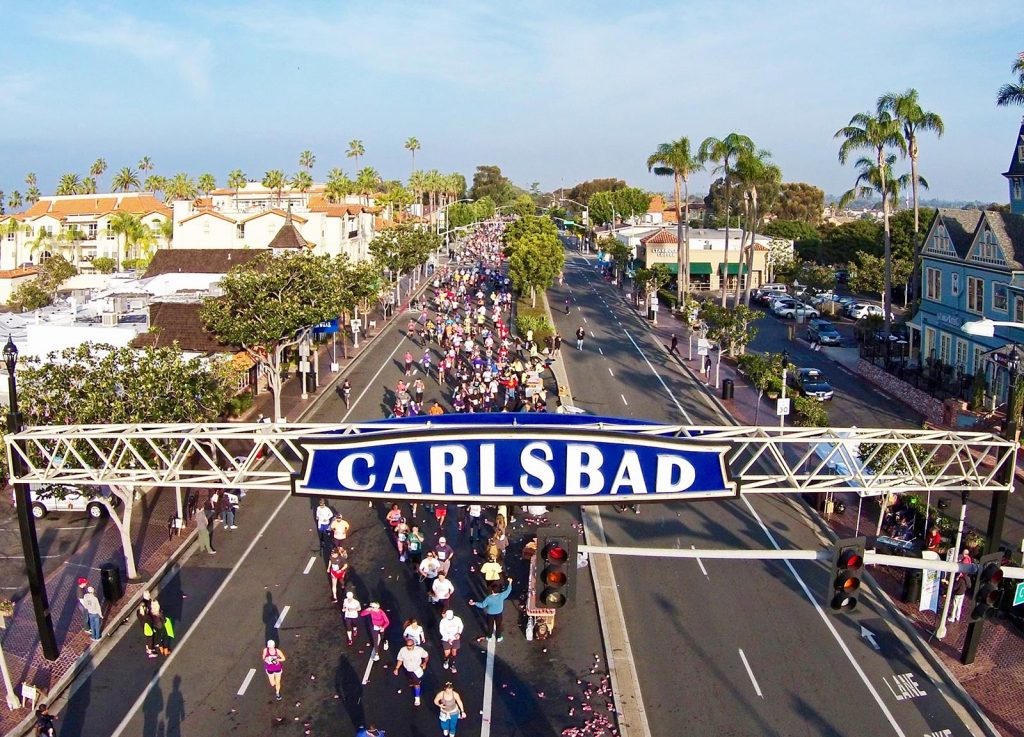 Yes, it's a winter race, but Carlsbad offers ideal running temps with 50 degrees at sunrise,  warming 15-20 degrees by noon.
The half marathon course includes about 8 miles of uninterrupted, sparkling ocean views (full marathon includes 18 miles along the coast!). When you're not passing by the Pacific Ocean beauty, you're winding through quaint Carlsbad Village where the crowds and community really show up! The course is also lined with bands at every mile, continuous volunteers, medical support/aid stations at every mile and an intangible energy that makes Carlsbad so special.
Further insight and reviews on the Carlsbad race experience available here.
THE SWAG
When you do the full or half marathon, you get not one race shirt, but TWO quality, long-sleeve takeaways!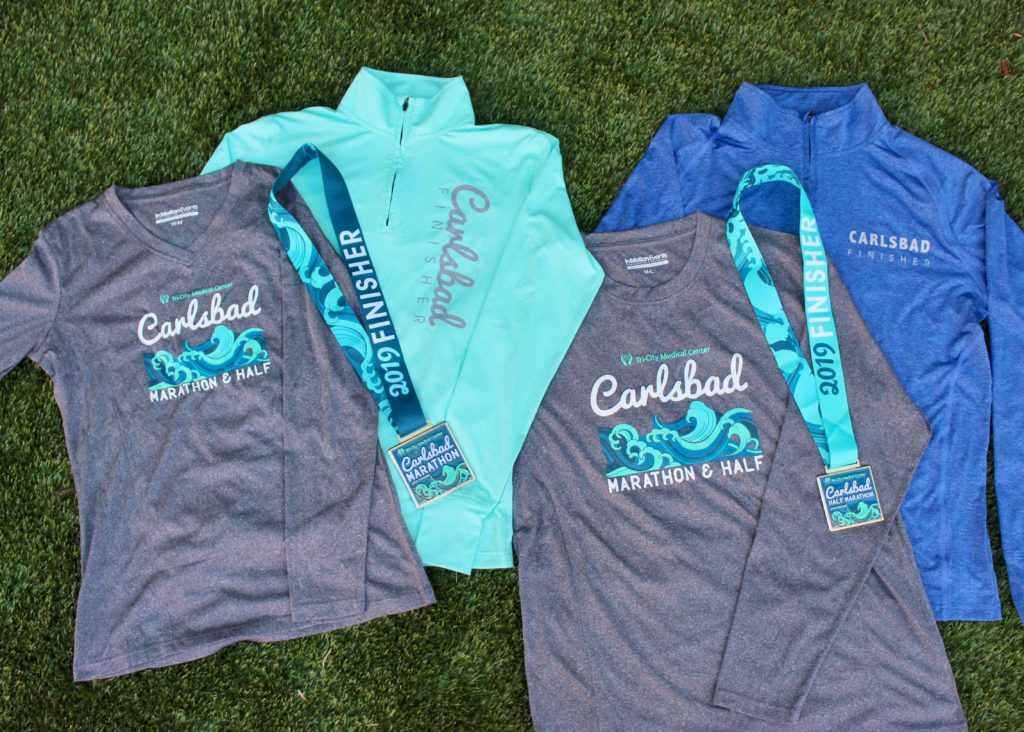 Entries include a long-sleeve, top-quality, technical fabric shirt AND a technical fabric 1/4 zip pullover jacket, along with:
Complimentary beer in the post-race Ballast Point beer garden
Souvenir cinch bag
Bib number with ChronoTrack B-Tag
Support stations at every mile
Race day gear check
Dazzling finisher's medal
First race in the Half Marathon Triple Crown series
Overall and age group awards
Official transfer policy
Opportunity to purchase race insurance
Nom Nom bag filled with tasty and nutritious refueling foods at the finish line
Finish line festival with live band, refreshments and celebration
THE HOTEL
There are plenty of great lodging options in Carlsbad and we are proud to partner with two fantastic properties for our race headquarters:
1. West Inn & Suites
Located three blocks from the ocean and full/half marathon course, this beautiful boutique hotel offers an unassuming luxury and a casual coastal vibe. 
Racer perks include:
Discounted rates
Complimentary breakfast, parking and wi-fi
Waived amenity fee ($20 value)
Expo and race day shuttles

2. Holiday Inn Carlsbad (all-new!)
Racer perks include:
Discounted rates
Complimentary self-parking, fitness center and wi-fi
Saturday night pasta dinner
Race day grab-and-go breakfast ($8.00 +tax)
Expo and race day shuttles
The on-property Stratus Restaurant & Bar is also available to hotel guests, offering breakfast, lunch, dinner & room service along with nightly happy hour specials from 4pm-7pm.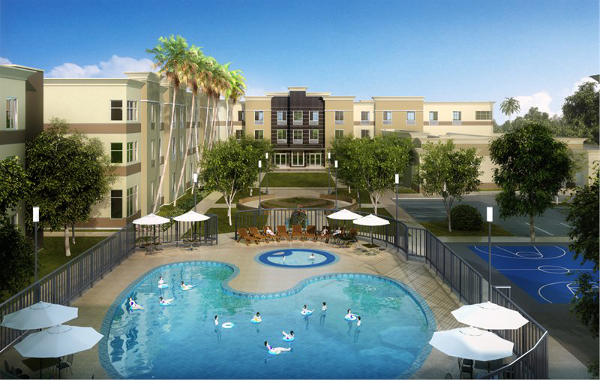 Stay & play!
Play time! That's the whole point of a runcation, right?! You'll have the beaches to yourself this time of year and have an opportunity to experience Carlsbad like a local.  
Visit Carlsbad and Carlsbad Village offer everything you'll want to know about planning your trip.  From dining, events, shopping, transportation and accommodations to all there is to explore and experience – you're going to fall in love with Carlsbad!
If you want to venture out and explore other areas of Coastal North County San Diego (which we highly recommend!), click here to check out other neighborhoods and attractions!
We hope you'll plan to join us January 17-19, 2020!
Register here and use code RUNCATION20 to save $10 on your full, half marathon or Double Down race entry!