Hey there, racers!
Get ready for an epic celebration where you can bask in your accomplishment, enjoy delicious treats, and soak up the post-race festive atmosphere. Let's dive into all the fun areas awaiting you at the Finish Line Festival in Balboa Park!
The Lawn: Music, Reunions, Photo Ops, and Local Vendors!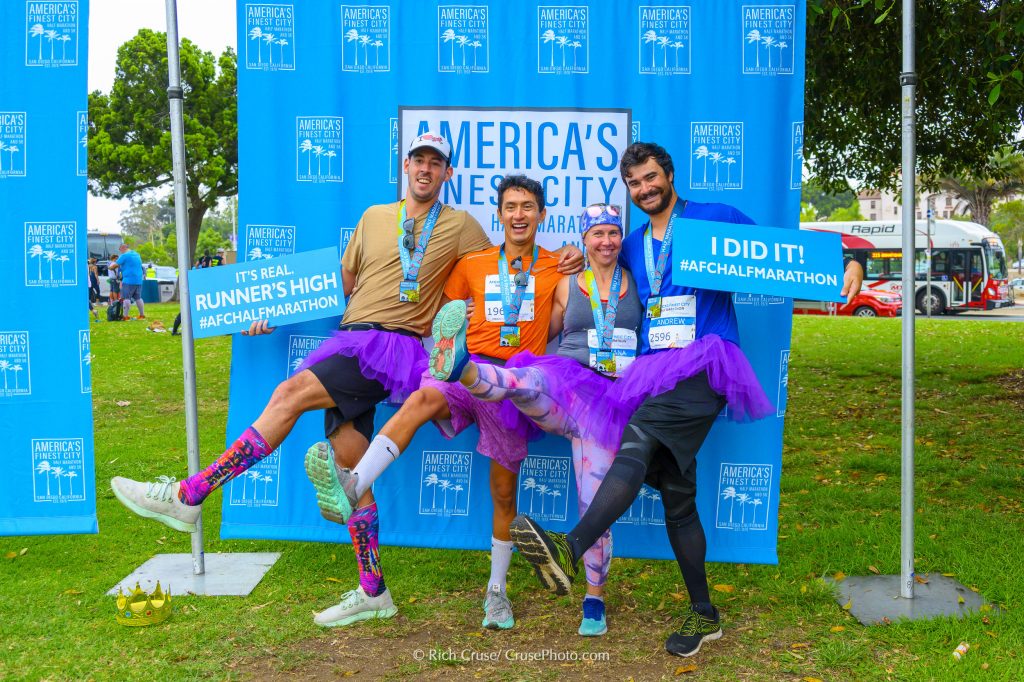 The heart of the Finish Line Festival is a tree-lined lawn in Balboa Park. Immerse yourself in the lively atmosphere filled with upbeat music and the joyous reunions of finishers with their loved ones.
Snap some photos at our race backdrops with fun props and signs. There are backdrops for all events, including the SoCal Triple Crown. Grab your running buddies and take a photo! Be sure to tag us at @inmotionevents or use #afchalf #afc5K so we can cheer you on!
Relax and refuel with your finisher food bag, and enjoy the variety of local vendor booths. Thanks to our local partners, enjoy an organic energy bar from Jambar (crafted by the makers of Power Bar), a fair trade organic banana from Jimbo's, gourmet crackers from Partner's Crackers, and ice-cold chocolate milk from Hollandia Dairy. These tasty treats will fuel your celebration and energize you for more fun! 
Beer Garden Bliss: Beers, Kombuchas, and Relaxation.
Ready to raise a glass and toast to your accomplishments?! Head over to the beer garden! Every race entry (for participants 21+) includes a drink in the beer garden. This year we have an even larger selection for our racers to choose from. Sip on a refreshing Kings & Convicts local craft beer, a Michelob Ultra, or a Flying Embers hard kombucha, hard seltzer, or canned cocktail. Enjoy the beauty of Balboa Park, sip a cold beverage, and celebrate your accomplishment!

SoCal Triple Crown Area: Massages, Donuts, and Celebration.
Step into the exclusive SoCal Triple Crown area – designed especially for those who conquered THREE races in ONE year! Triple Crowners get to celebrate their incredible achievement and enjoy the perks that come with it. 
Grab a delectable Dunkin' glazed donut, a perfect post-race snack! Give your tired muscles the TLC they deserve with a free massage from the skilled massage therapists of Healing Hands. And don't forget a revitalizing Suja cold-pressed shot to recharge your body and keep the good vibes flowing. 
The AFC Finish Line Festival is the ultimate celebration of your achievements. It's your time to connect with fellow participants, take a photo, refuel, and rest. So, gear up for an unforgettable race and celebration! Soak in the vibrant atmosphere and create memories that will last a lifetime. 
Good luck to all our racers. We'll see you at the AFC Finish Line Festival! Celebration, fun, and deliciousness await.