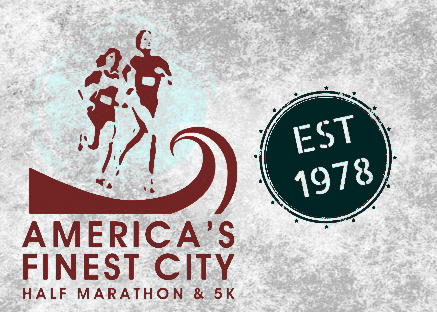 The year was 1978 when the America's Finest City Half Marathon had its inaugural race.  Since that time, this historic San Diego race has successfully run 42 times! And so have a few loyal participants.
There are three men who have done the race EVERY. SINGLE. YEAR. They're more like family than participants and we couldn't be more honored by their devotion to AFC.
The trio includes (pictured below from left to right):
Dave Parker
Jerry Albert
Gordy Adsit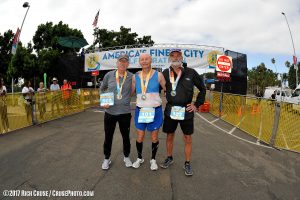 There are an additional two runners who have come out for the race for the past 41 years:
Roger Carlson
Luis Santillan
Whether 41 or 42 years – that is amazing loyalty to one event!
Why AFC? And why every year?!
Meet Dave Parker: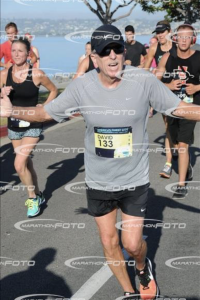 "Back in 1978 when I entered my first AFC (my first race of any distance) I really didn't know how to train for it or what to expect (finished in 1 hour and 44 minutes). After finishing AFC #1 I became hooked on running and races. 

 

AFC is special to me because it was the very beginning of 40+ years of running and racing (including 11 Boston Marathons). Absolutely love the tradition of running AFC every August."
And get this!
In 1986 (race #9), Dave took a picture with his newborn daughter at the finish line.  Then, 31 years later, Dave ran side by side with his daughter and her husband for the 40th annual event in 2017! A truly special experience and story.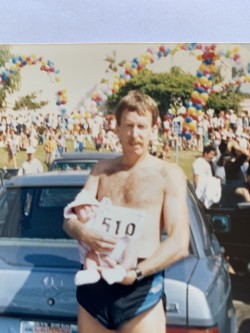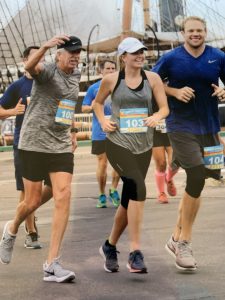 Meet Jerry Albert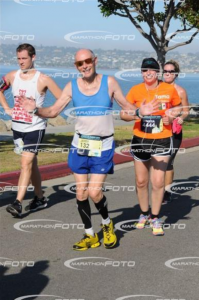 Jerry ran the AFC Half Marathon for 40 years, and has come out for the AFC 5K every year since. Why you may ask? It all started with a challenge!
"After the first AFC in 1978 I decided to take up Mayor Pete Wilson's challenge of making this race my annual one."
A little race background:  In 1978, as the original running boom was about to take off, then San Diego Mayor Pete Wilson thought that it would be a good idea to have a running event as a part of the "America's Finest City Week" celebration, which took place each August.  With the assistance of the Old Mission Bay Athletic Club (OMBAC), the America's Finest City Half Marathon was born!
Meet Roger Carlson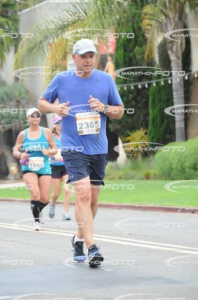 Here are some fun facts about Roger, shared by his friend Michael:
Life Long runner— 2019 was his 41st consecutive year at AFC!!!
CPA in Tustin, CA
Business Owner
Husband of 30 years, with 2 successful adult children
Rotary Club, immediate past president; Chair of annual Lobsterfest fund raiser
Creator and Chair of "PBJ ministries", a Christian-based charity supporting food for the homeless and annual holiday meals for underprivileged elementary school students and families
Financial counselor and coach
High school basketball ref
And, a really good friend– the kind you can always count on. 

Basically – Roger isn't only loyal and dedicated, he's an all around GOOD GUY! And one we love having run our race every year.
A historic race
The America's Finest City Half Marathon is a race full of history.  There are 42 years worth of stories, inspiring tales and personal memories from a single event, but held in the hearts of hundreds of thousands of finishers.