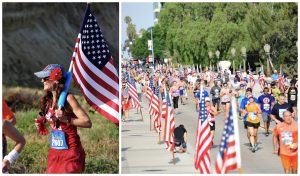 The 4th of July – what's not to love about this day?! All of our favorite American traditions are celebrated in quintessential summer fashion and emphasized in good 'ol red, white and blue.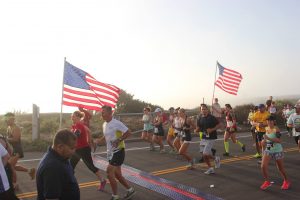 What comes to mind for you?  Maybe it's the smell of BBQ's and sunscreen, the togetherness of friends and family, the sound of baseball and fireworks, the sweet taste of watermelon or just the feeling of warm sunshine on your face. 
Whatever the festivities look like for you, we want to take a moment to remember why it is we are celebrating…
We celebrate because we can!
We are graced with independence and freedom and for that, we raise a glass.  We are grateful to those who protect our freedoms and make personal sacrifices for the well-being of our country.  THANK YOU TO THOSE WHO SERVE!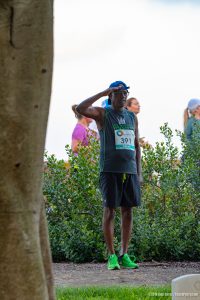 We are free to live how we choose, free to be ourselves and FREE TO RUN!  Sometimes we view running as a chore or a burden, but if you view it with a perspective of gratitude and realize that just having the option and ability to run is something to be thankful for, you will actually enjoy your next run!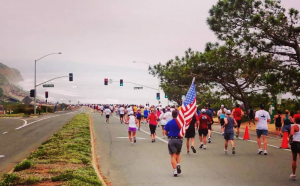 Get out there and run (because you can!) and have a happy and safe 4th of July holiday.  Cheers America!
>> Check out our 4th of July race specials here <<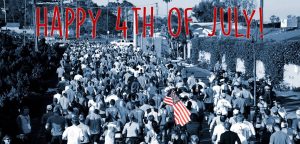 Where to catch 4th of July fireworks in San Diego
Big Bay Boom: Billed as "Southern California's largest fireworks show," this event features fireworks displayed from four barges along San Diego Bay. The show will be arranged to music played on local iHeart Radio stations.
9 p.m. Watch from Shelter Island, Harbor Island, North Embarcadero, Marina District and the Coronado Ferry Landing.
Chula Vista: 9 p.m. at Chula Vista Elite Athlete Training Center, 2900 Olympic Parkway
El Cajon: 9 p.m. at Kennedy Park, 1675 East Madison Ave.
Escondido: 9 p.m. at Grape Day Park, 321 North Broadway
Imperial Beach: 9 p.m. at the Imperial Beach Pier, 10 Evergreen Ave.
La Mesa: 9 p.m. at Lake Murray Community Park, 7001 Murray Park Drive
Mira Mesa: 9 p.m. at Mira Mesa Community Park, 8575 New Salem St.
Ocean Beach: 9 p.m. at Ocean Beach Pier off Niagara Avenue
Rancho Bernardo: 9 p.m. at Webb Park, Avena Place and Bernardo Center Drive
San Marcos: 9 p.m. at Bradley Park, 1587 Linda Vista Drive
Santee: 9 p.m. at Town Center Community Park East, 550 Park Center Drive ($10 parking fee)
Vista: 9 p.m. at Moonlight Amphitheater, 1200 Vale Terrace Drive. Admission is $5; parking is $15 to $30
"Red, White And Boom!" At Legoland: The amusement park will have family games and a costume parade throughout the day, plus live performances and character meet and greets.
Fireworks begin at 8:30 p.m. Legoland, 1 Legoland Drive, Carlsbad. $95 to $100;
SeaWorld San Diego Fireworks Spectacular Show: Spend the day exploring roller coasters and sea life, and end with a late-night fireworks display.
9:40 p.m. SeaWorld San Diego, 500 Sea World Drive. Included in price of admission
San Diego County Fair's Fireworks Spectacular: Watch the fair's grand fireworks from a variety of spots, including Family Funville, the Fun Zone and the Grandstand.
9 p.m. Del Mar Fairgrounds, 2260 Jimmy Durante Blvd., Del Mar. Free with admission