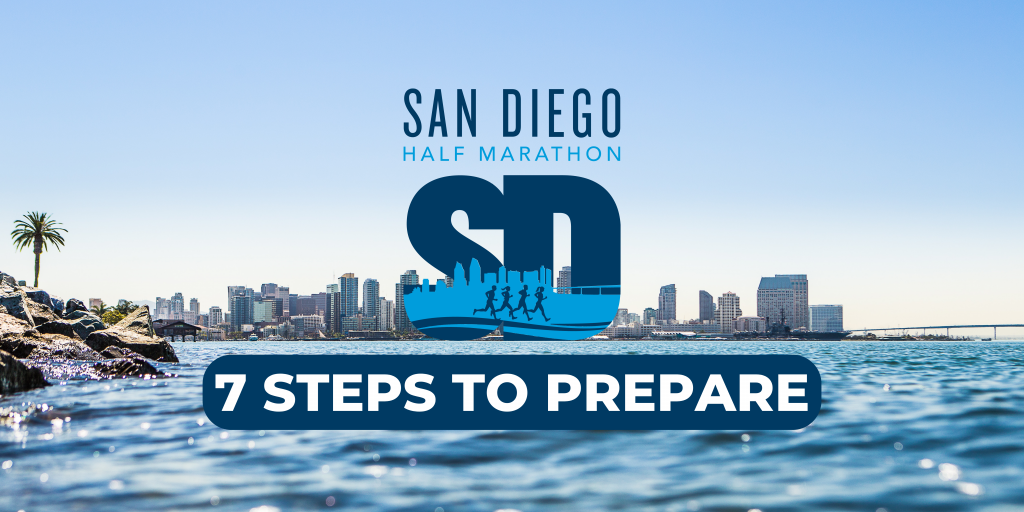 The San Diego Half Marathon and 5K are just around the corner!
Whether this is your first event or you are a Half Marathon Legacy runner aiming for a new personal record, here are some essential steps to prepare for success!
1. Pick Up Your Bib Number and Swag at the Expo/Packet Pickup
Get hyped for the event and pick up your bib and race shirt at the Hilton San Diego Gaslamp Quarter, located at 401 K Street, San Diego, CA 92101.
The expo will be held Friday, March 24, from 2 to 6 PM and Saturday, March 25, from 9 AM to 4 PM.
Remember to bring your photo ID! You must provide an ID that matches the name on your bib number to complete your pickup.
If you cannot attend the expo, don't worry! Someone else can complete packet pickup for you. They only need a copy or photo of your ID to complete the pickup. 
If you cannot attend the expo or have someone else complete packet pickup, we do offer Race Day Pickup.
However, there is an additional $20 service charge for this amenity.
2. Identify the Location of Your Pre-Race Staging Area 
Race Day morning is early, busy, and full of pre-race jitters. Do yourself a favor, and plan out your arrival in advance. 
First, know your start time.
5K – 6:30 AM
Half Marathon – 6:50 AM
Then, know your location.
Both the San Diego Half Marathon and 5K start at the intersection of 5th Avenue and Harbor Drive in front of the San Diego Convention Center.
However, each event has a different Pre-Race Staging Area. 
Take a moment to bookmark your Pre-Race Staging Area in your preferred maps application on your mobile device to help you navigate downtown on race day.  
3. Plan Out Your Start Line Arrival 
Now that you know your Pre-Race Staging Area, let's identify how you will arrive. 
Option 1: Ride the Trolley
Navigating downtown San Diego by car can be difficult, but using the MTS Trolley network can provide an easy and climate-friendly arrival! On race day, take the Green, Blue, or Orange line to the 12th & Imperial Trolley Station. A round-trip trolley pass is $5.00. For exact arrival/departure times and a list of stations with free parking, please visit www.sdmts.com. 
Option 2: Ride-Share Drop Off
For those using ride-share services, participant drop-off areas are located at the specific intersections below. 
5K: the intersection of 6th Avenue and K Street.
Half Marathon: the intersection of Park Boulevard and Imperial Avenue
Option 3: Downtown Parking
For those driving themselves to the start line, you can use metered street parking or any designated paid parking lots and structures in the area. 
On Sundays, all metered parking is free in downtown San Diego. However, space is limited, and some roads will be closed. Towing will be strictly enforced in no-park areas, so be sure to check for "No Parking" signs before leaving your vehicle. 
There are many paid parking lots and structures downtown. Here are the locations closest to the Start Line. 
Tailgate Padres Parking Lot – 1235 K Street

6th & K Parkade – 289 6th Avenue

MTS AutoPark Public Parking – Trolley Plaza

Diamond View Towers – 350 10th Avenue

Park it on Market – 614 Market Street 
Whatever method you choose, be sure to give yourself plenty of travel time to accommodate road closures, parking, and the busy start line. We recommend at least 45 minutes to an hour before your start time. 
4. Plan Ahead for Gear Check
Gear Check will be provided by The Mobile Locker Co. Locker rentals give you a secure, convenient storage option for your gear at the event site. If you did not purchase a locker during registration, you may purchase one on race day, space permitting. 
Small: 6″x6″x9″ – good for a small layer, keys, wallet, and other small items – $10

Medium: 11″x6″x18″ – best for small to medium bags – $15

Large: 12″x12″x18″ – best for larger bags and backpacks – $20
If you would like to purchase your locker now, click here! 
5. Half Marathoners: What Wave Are You In?
The San Diego Half Marathon uses a quick, multi-wave start to ensure a smooth flow on the course. The first wave starts at 6:50 AM, with each subsequent wave separated by approximately 2 to 3 minutes.
Waves are assigned based on each athlete's estimated finish time, provided during registration. You will find your wave number printed on your bib number. Make sure to stage in the wave corral that matches your bib number.  
Regardless of your wave number, you must be at the start line at 6:50 AM. 
6. Need to Change Your Registration or Switch Events?
Our online registration portal has closed. You can make any last-minute changes and switches at the expo or submit the event change form here. Please note that the 5K is sold out so there is no downgrading to this event. 
If you want to update your gender identity to participate in our new non-binary category, follow these instructions from Events.com. 
7. Check Out the San Diego Half Marathon and 5k Webpage 
For more event information, check out the San Diego Half Marathon and 5k webpage! There you'll find all the essential details, including the course map, information on the Legacy Program and the SoCal Triple Crown, and an extensive FAQ section! 
See you at the Finish Line!