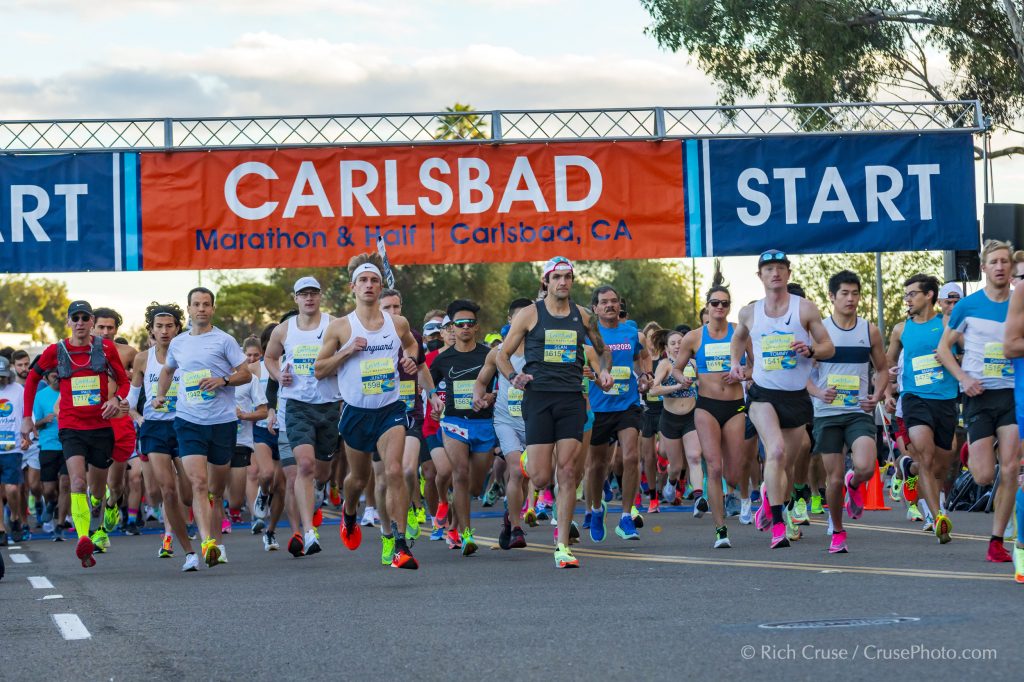 Carlsbad is just around the corner! Are you prepared for a successful race?
Whether you're running your first event, attempting to set a new personal record, or trying to qualify for Boston, here are some essential details you need to know!
1. Pick Up Your Bib Number and Swag at the Expo/Packet Pickup
Get hyped for the event and pick up your bib and race shirt at the Holiday Inn Carlsbad, located at 2725 Palomar Airport Road, Carlsbad, CA 92009. The expo will be held Friday, January 13, from 12 to 5 PM and Saturday, January 14, from 10 AM to 4 PM.
Remember to bring your photo ID! You must provide an ID that matches the name on your bib number.
If you cannot attend the expo, don't worry! Someone else can pick up your bib number and shirt for you. They just need a paper or electronic copy of your ID to complete the pickup. 
If you cannot attend the expo or send someone in your place, we offer Race Day Pickup for a $20 additional service fee. 
You can select the Race Day Pickup option during registration or log in to Events.com to add the service to your existing registration. Anyone attempting to pick up their bib number on race day who didn't register for Race Day Pickup will be required to pay the $20 service fee on-site.
2. Book or Confirm Your Accommodations 
Getting a good night's sleep is so essential before a successful race. Take a moment to confirm your accommodations in advance so you can rest easy. 
Are you still looking for a place to stay? Book a room with one of our host hotels for a special discounted rate and other unique amenities!  
3. Plan Your Race Day Arrival 
Race morning is early, busy, and full of pre-race jitters. Do yourself a favor, and plan out your arrival in advance. 
The Carlsbad Marathon, Half Marathon, and 5K start and finish at The Shoppes at Carlsbad located at 2525 El Camino Real, Carlsbad, CA 92008.
Each event has its own start time:
6:15 AM – Marathon Start

6:45 AM – 5K Start

7:45 AM – Half Marathon Start
Parking is available at The Shoppes at Carlsbad. Be sure to give yourself extra travel time to accommodate road closures, parking, and the busy start line. We strongly recommend carpooling whenever possible to limit congestion and lower our carbon footprint. 
If you plan to arrive at the start line using Lyft or Uber, please instruct your driver to drop you off at the runner drop-off area on Monroe Road just north of Carlsbad Village Drive. Be sure to follow the signs and instructions of parking personnel.
4. Plan Ahead for Gear Check
Gear Check will be provided by Mobile Locker. Locker rentals give you a secure, convenient storage option for your gear at the event site. You can pre-purchase a locker during registration or on race day. There are three different size options to suit your needs.  
Small: 6″x6″x9″ – good for a small layer, keys, wallet, and other small items – $10

Medium: 11″x6″x18″ – best for small to medium bags – $15

Large: 12″x12″x18″ – best for larger bags and backpacks – $20
Mobile Locker will be stationed in the Finish Line Festival, where it can be accessed before and after your event until 12:45 PM. 
If you would like to purchase your locker now, click here! 
5. Half Marathoners: What Wave Are You In?
The Carlsbad Half Marathon uses a quick, multi-wave start to ensure a smooth flow on the course. The first wave starts at 7:45 AM, with each subsequent wave separated by approximately 2 to 3 minutes.
Waves are assigned based on each athlete's estimated finish time, provided during registration. Your wave number is printed directly on your bib number. Runners with strollers must stage at the back of their assigned wave.
You must be at the start line at 7:45 AM regardless of your wave number. Any participant who starts before the 7:45 AM starting time or does not stage in their assigned wave will be disqualified.
6. Need to Change Your Registration or Switch Events?
Now's the time to make any last-minute changes to your registration! If you need to switch events, go virtual, or defer to next year, fill out our event change form here.   
If you want to update your gender identity to participate in our new non-binary category, follow these instructions from Events.com. 
If you're reading this but still need to register, don't wait! The Carlsbad Marathon, Half Marathon, Double Down Challenge, and 5K are right around the corner and about to sell out! Click here to register online through Wednesday, January 11! Registration will also be available for any event distances that haven't sold out at the expo. 
See you at the Finish Line!