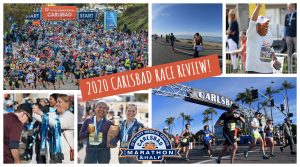 1/19/20 -The 29th running of the Tri-City Medical Center Carlsbad Marathon, Half & Surf Sun Run 5K was a year to remember! With surprise clear skies, a thrilling women's half marathon finish and thousands of goals conquered and dreams acquired – smiles were everywhere to be seen.
The weekend kicked off in its usual cute way at the 2020 Kids Marathon Mile at LEGOLAND on Saturday, January 18th.  Thrill and joy filled the air as thousands of kids and families experienced the excitement of "racing" together.
Sunday morning was a chilly one, but runners were able to stretch and prepare for their race in the heated tent near the start line.  Full marathoners were able to enjoy a unique experience of running along the coast to the first light of the day, as warm sunshine overcame the sky and sparkled on the ocean waves.
Between the photos and inspiring stories that have been shared, along with the many positive reviews, our hearts are smiling and we couldn't be prouder of our 2020 finishers.
"This was such a great first half marathon experience. Gorgeous views, not a lot of hills, and really good quality shirts you receive for signing up. Really enjoyed it."
– Renata P
"Well run experience. Race support team was excellent as were the refreshment stations. The route was well marked and the coastline run had fantastic views. Even saw a dolphin!!!!  Great sponsors and giveaways. Easy registration. Will run this again. Better than -30 degree wind chill in Iowa!! Thanks."
– Kevin S
"You can't beat the views from this course. The race was very well run and well supported. I like that the marathon runners were able to start an hour ahead of everyone, and running with the sunrise on the coast was a dream. Definitely add this race to your list!"
– Gracie L.
"Amazing course!! Excellent support with water stations at every mile. Lots of locals cheering you on in downtown area with music and bands and people passing out treats. One of The most beautiful coastal courses ever Aside from Big Sur and Monterey.. If you want to run and see the ocean this fits the bill!…"
– Denise W.
"This is a terrific event. Not only is the course beautiful but the event is run exceptionally well. There is a warming tent prior to the start, plenty of porta potties bothat the start and on the course, and aid stations almost every mile! And then there is the post race snack bag and beer garden. I LOVE this event!"
– Gina F.
Congratulations 2020 Carlsbad Finishers!!
We hope to see you all again next year at the special 30th running of Carlsbad!
Sunday, January 17, 2021 – registration is now open with special low opening prices!
Take a glimpse of the 2020 Carlsbad weekend of FUN!