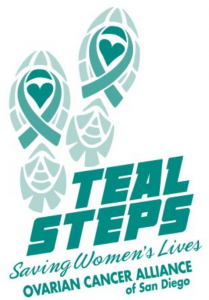 On Saturday, September 28th, we had the privilege of helping the Ovarian Cancer Alliance (OCA) of San Diego put on their 4th Annual Ovarian Cancer Alliance of San Diego Teal Steps Walk.
It was a beautiful and heart warming morning spent at Tidelands Park in Coronado as survivors, supporters, family and friends (& dogs!) came together in love and solidarity to connect, celebrate and enjoy a 2-mile walk along Coronado's bayfront.  Awareness and funds were raised for this admirable organization, and we were honored and proud to be involved.
"The Ovarian Cancer Alliance of San Diego works towards advancing cancer research and education of the medical community for early diagnosis; improving the quality of care for patients; and expanding their community outreach program to include all gynecologic cancer awareness to civic groups, organizations and the general public throughout the San Diego County."
Enjoy a glimpse of the morning!
You can find more photos on their Facebook page here.