La Jolla Ambassadors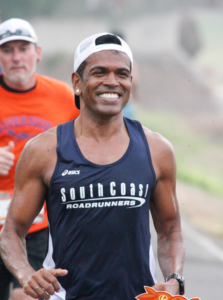 Mahesh Sethuraman
My name is Mahesh Sethuraman. I fell in love with running when I was 39 years old, running my first 5k race at Carlsbad 5000. Later that year, I saw a friend of mine run La Jolla Half Marathon and made it my goal to train and run a half marathon. Since 2016, I have embraced both running and running community and has made road race a genuine passion of mine. I have run La Jolla Half both in 2017 and 2018. I can't wait to come back and run here in 2019I Running has taught me how to endure both in running and in life!
I live in Irvine. I took in a sick foster dog back in March 2018, and I have been trying to get him to run with me. You usually will see me running in and around in Irvine with my dog Patrick and othe running groups like Snail's Pace & South Coast Road Runners! I blog about my running experience, at "http://www.runrollrestrepeat.com.
---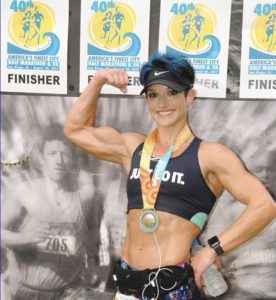 Amanda Galladora
Story has it I taught myself how to do forward rolls and headstands after watching Mary Lou Retton win Olympic gold, and at 5 years old I began competing in gymnastics. When my days in gymnastics came to an end, I started dabbling in some running here and there. It was awful! How could anyone actually enjoy running?! I joined a fitness club and discovered indoor cycling classes, which seemed to help my running tremendously. I was hooked! The group exercise director approached me about becoming certified to teach classes myself, and that would be the beginning of my career as a group exercise instructor and personal fitness trainer. I've been teaching group exercise classes for 15 years now and operate my own in-home personal training business.
I have competed in powerlifting, completed the Spartan Trifecta, and then a gym class participant told me I should try the Half Marathon Triple Crown. I needed a new challenge, and I completed my first Triple Crown in 2017. This year I will complete the Triple Triple Crown, and I could not be more excited to be a race ambassador for my absolute favorite half of the three courses: La Jolla!
---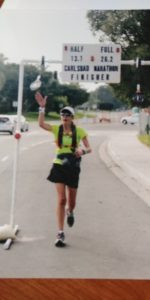 Lorraine Peet
Hi my name is Lorraine Peet and I started running about one month shy of my 52nd birthday. I had a bucket list item of running one half marathon and heard an advertisement for the TriCity Carlsbad Marathon and Half Marathon training program with In Motion Fit. I joined in July 2013 and my first half marathon was scheduled for January 2014. I have stayed with In Motion Fit every since and half been an assistant coach for the half marathon group as well as the marathon group.
Well the bug bit me and in October 2018 I completed by 28th half marathon. I have completed the La Jolla half marathon 4 times and am looking forward to number 5 in 2019. During my half marathon training, I said that I would never run a full marathon but that happened too! January 2018 I ran my first full marathon and am looking forward to running a few more.
---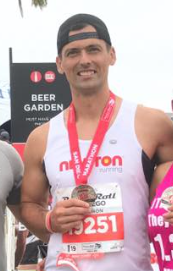 Jeff Galford
Runner, Triathlete & Coach Jeff Galford was born in Gap Mills, West Virginia, in 1982. He is married to Rosie Galford of San Diego, California and father to Victoria and Jeff Galford Jr. After serving in the United States Marine Corps for eight honorable years and supporting OIF operations, Coach Galford has ran the So Ca. Ragnar Relay race and has completed various full marathon, half marathon, and triathlons.
Running Highlights:
2012, 2013 & 2014: Completed La Jolla half Marathon
2014: Ragnar Relay So Ca, 5th Overall and 1st Ultra Men's Corp. /Pub Division
2015: Carlsbad Marathon, 18th Overall and 2nd in Age Division
2015: Ragnar Relay So Ca, 3rd Overall and 3rd Men's Open Division
Completed Boston Marathon
---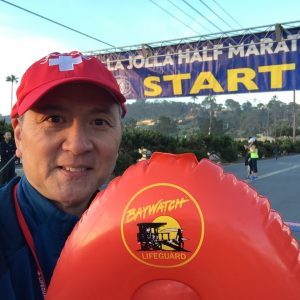 Henry Chan
I have such fond memories of La Jolla Half Marathon, which is why I've run this course 12 times. My first time in 1988 was also my first Half Marathon. The next year 1989 was my Half PR at 1:49. I continued to run the course in 1990 and 1993. Starting a family put a damper on my running races, but I started again in 2011, and I have run 8 consecutive years since. Last year was especially memorable as my daughter ran the course for her first time on her way to the Triple Crown.
LJHM is such a beautiful course, as well as challenging. I've run all over the country, and always recommend this race to others. I have the distinction of running in costume and barefoot, usually as a lifeguard since that's appropriate for San Diego races along the beach. I've met many running friends participating in the race, and will be running this course well into the future. I look forward to seeing you out there on the course.
---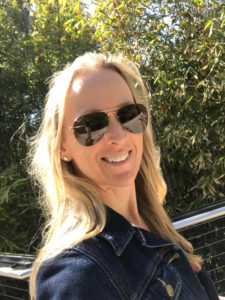 Loran Anderson
Loran Anderson is committed to helping her clients reach their health and wellness goals. With over 12 years of personal fitness training experience and extensive education in fitness, Loran provides results through attainable fitness programs for all fitness levels.
Her success comes from her own experience toward wellness. She has a dedication to her own health and wellness and loves endurance events. She has been an annual participant in the La Jolla Half Marathon. Through her success of being a personal trainer, Loran's diverse qualifications include fitness certifications and a bachelor's degree in psychology.
Loran's biggest passion in life is spending time with her daughter and Jack Russell Terriers. Working out with her two loves is the most rewarding treasure.
---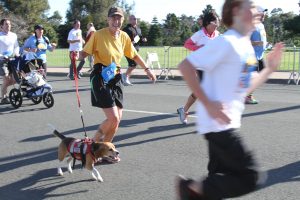 Pam Medhurst
My name is Pam Medhurst and this year marks my 40th year of running! I also reached a new age division, just turned 65. I saw the very first La Jolla Half Marathon as a crew helper, setting up the finish line and riding lead bike on the course. My times have slowed, but not my desire to finish strong and enjoy every step. When I'm not running, biking, kayaking or swimming, I volunteer with our Sheriff Dept for search and rescue. For the past 20 years I have been a canine handler and train my Beagles to help look for lost or missing people.
---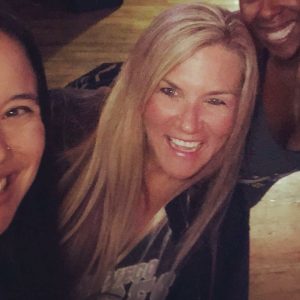 Marsha Wingler (Connors)
My name is Marsha and I did my first half marathon in 2012. I immediately loved racing and all the friends I began making through various run groups and mutual friends. I am a San Diego native and I think I have enjoyed more of San Diego sightseeing either training for races or doing actual races. So fun!
In addition to running I also enjoy swimming and cycling. I have completed 3 full Ironman's and 6 half Ironman races. I'm always looking for the next adventure .