Kids Run Carlsbad
The Kids Run Carlsbad series is a fun opportunity for kids ages 12 & under to participate in Carlsbad's two most famous kids runs. The series kicks-off each January with the Kids Marathon Mile at LEGOLAND, part of the Carlsbad Marathon weekend of events, and concludes in May with Junior Carlsbad, part of the iconic Carlsbad 5000 weekend of events.  Participants will not only earn the medals awarded at each event, but also a commemorative Kids Run Carlsbad series medal.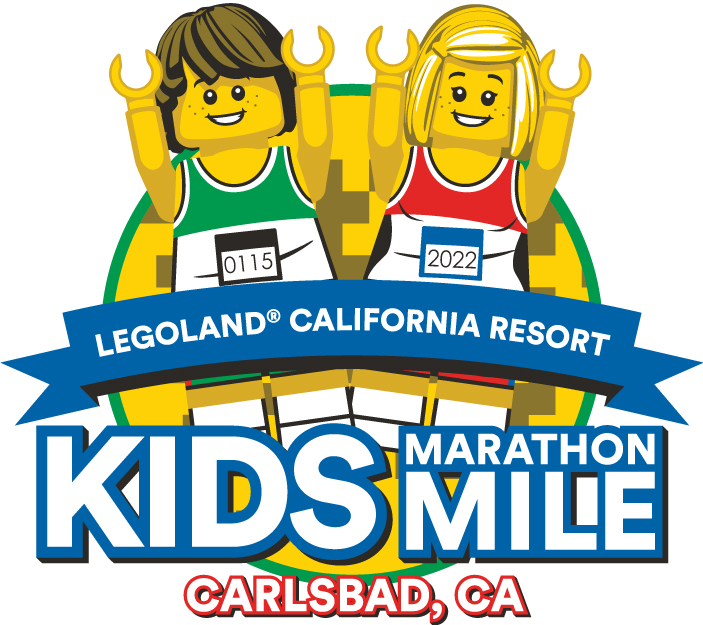 About the Kids Marathon Mile at LEGOLAND
REGISTER HERE
LEGOLAND California is host to this special, 1-mile fun run for kids of all ages and abilities. Before the doors to the park open to the public, they're opened for us to enjoy the sights and sounds of LEGOLAND! Participants can run, walk, skip, be pushed in a stroller or carried on a back as they wind through the park and back out to the finish line. A portion of each registration is donated to the official charity partner of the event, Merlin's Magic Wand. Kids registration includes an event T-shirt, finisher medal, FREE 1-Day Sea Life Hopper ticket and 40% off (4) adult 1-Day Sea Life Hopper tickets.

About Junior Carlsbad
REGISTER HERE – check back soon 
 
The streets of downtown Carlsbad will come alive with the legendary Junior Carlsbad! Kids ages 4-12 race against the clock in a 1-mile or half-mile distance on the famed Carlsbad 5000 course. Family members line the barricades
to cheer on these amazing young runners crossing the official Carlsbad 5000 finish line. After the kids finish, stick around to witness the world's fastest elites attempt to set 5k records on the same course later that day. Kids registration includes a race T-shirt, finisher medal, official race results, and more!
Both events feature fun, pre-and post-race festivals with entertainment, vendors, refreshments and more!

Eligibility
Upon completion of the Kids Marathon Mile at LEGOLAND in January, kids 12 and under are automatically eligible for the Kids Run Carlsbad series. To complete the challenge, each child must then register for and complete the Junior Carlsbad in May of the same calendar year. Immediately after their Junior Carlsbad race, they will receive their commemorative Kids Run Carlsbad medal inside the Carlsbad 5000 expo area. While there, take a photo in front of the Kids Run Carlsbad step-and-repeat to celebrate and memorialize their special accomplishment.